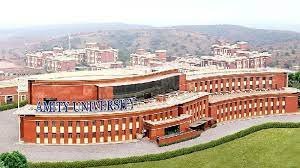 Amity University is inviting applications for admission to its Dual Degree Programs in various streams. Admission will be merit-based while the final selection will be done on the basis of GD/PI. Apply here for Amity University Admission 2022. 
Amity University is inviting applications for diploma and PG diploma programs in various streams. The admissions to all these programs is based on merit. Interested candidates can visit the official website to apply. Apply here for Amity University Admission 2022
Amity University, Noida, Uttar Pradesh, established in 1986, sets the benchmarks of global education with a system that matches the best of practices, standards, theories, resources all over the world. Amity has become a huge brand in India. Amity is the member of Association of Indian Universities and Association of Commonwealth Universities.With affiliations from UGC, NAAC, NATA and many more, Amity has attracted more than 80,000 students for different programs. It provides education in India, Singapore, London, New York.
Amity is very famous for its course offerings and fee structure. It provides many UG, PG, Doctoral, Diploma and Certificate courses categorised into many streams with various specializations.
Admissions to these programs are given on the basis of merit and entrance tests.
Amity University, Noida Courses Offered
Amity University offers many types of UG, PG, Doctorate, Diploma and Certificate Courses. Ph.D. and Diploma are also available in part time for some Courses.
Amity University, Noida Admissions
Selection Criteria:
Selection of the Candidates for Admission in Amity University is done on the basis of merit. Entrance Exam for major Courses with further Interview and Group Discussion. Entrance Exams are of JEE, NATA, UPSEE, MAT, GMAT, XAT, CAT, NMAT, CMAT and many more.
Amity University, Noida Placement
27,000 Amity students have got on-campus placements in MNCs and top organisations. Leading companies across various disciplines come for campus placements at Amity. In technical courses, nearly all students are placed even one year before the completion of the course. This achievement has been the result of the a 60-member team of dedicated members of the Amity Corporate Resource Centre that constantly interacts with the corporate world and helps prepare students for their careers. Corporate Resource Centre at Amity ensures the best placement for each student. CRC has been active in offering their support and consultation for future entrepreneurs looking to establish their own projects.
Amity University has witnessed an excellent placement as 525 companies participated in the placement drive and recruited over 1706 students for a variety of jobs.
Over 25 companies provided offers above 5 LPA (Dream Offers). The Highest CTC of INR. 30 LPA was offered by Amazon. The average CTC stood at INR. 4.5 LPA. Over 394 students were placed in Accenture, 233 students were placed by Capgemini, 136 by TCS., Eleation also placed 72 students from Amity.
Top Armed forces where Amity students were considered by the following defense agencies- the Indian Army, Indian Navy, and Indian Air Force.
The university has witnessed a huge spike in the Highest CTC as it went from INR. 12 LPA in 2019 to INR. 30 LPA in 2020. Other details of year wise salary statistics have been given below:
More Information regarding Placements 2020:
Number of Companies invited: 525
Number of offers provided to students: 1706
Number of Dream Offers: 25
Highest Company with package: Amazon by 30 LPA
Lowest Package: 3 LPA
Aside from the above-mentioned information, over 151 students were placed in the following companies- Hexaware, NCR CORPORATION, To The New, BYJUS, Gemalto, Global Logic, IBM, SIFY Corp, NEC, ZTE, and VMware.
Amity University, Noida Highlights
Following are the highlights of Amity University, Noida, Uttar Pradesh:
| | |
| --- | --- |
| Established | 1986 |
| Name of University | Amity University, Noida |
| University Type | Private |
| Entrance Exam | JEE, NATA, UPSEE, MAT, GMAT, XAT, CAT, NMAT, CMAT and many more |
| Approved by | UGC, NAAC, WASC, AIU, ACU |
| Admission Criteria | Merit Based and Entrance test |
| Application Mode | Online/Offline |
| Official Website | https://www.amity.edu/ |